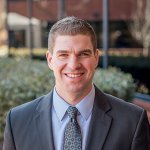 Happy National Principals Month! To celebrate all the amazing things principals do for our children and communities, we're spotlighting Nationally Distinguished Principal, Andy Jacks. We're super fans of Andy at WeVideo HQ for the incredible videos he makes on a weekly basis. Check out his famous #30SecondBookTalk videos - We Don't Eat Our Classmates, It's not Jack and the Beanstalk, We're all Wonders. And find him on Twitter @_AndyJacks and @dadsasprincipal, and his blog andyjacks.co.
Talking with Andy is equal parts motivational speech and principal love. You walk away feeling inspired, moved and woke to this idea: in the words of Andy, "But shouldn't every conversation leave you feeling motivated?"
Andy, what does it mean to be a principal?
Being a principal means that I have the opportunity, every single day, to make a difference. I hate taking days off, I can't miss one. Every day brings unique opportunities to provide resources, support, direction, and whatever it takes for every child to be successful in our school.
As a principal, we have the ability to think long-term to student situations. I work for students their whole elementary career. I know many of my students' families even before the student was born. I had a new student ask me recently, "How long have you been a principal?" I said, "How old are you?" He said, "Nine." "Well I've been a principal about as long as you been alive!" Many times we get stuck on short-term goals, we think how are we going to get through the year, but for a principal, this can be more about long-term success for the entire elementary career and beyond.
I love my job because I can provide an engaging school that students love to come to, feel safe, and a place where they belong.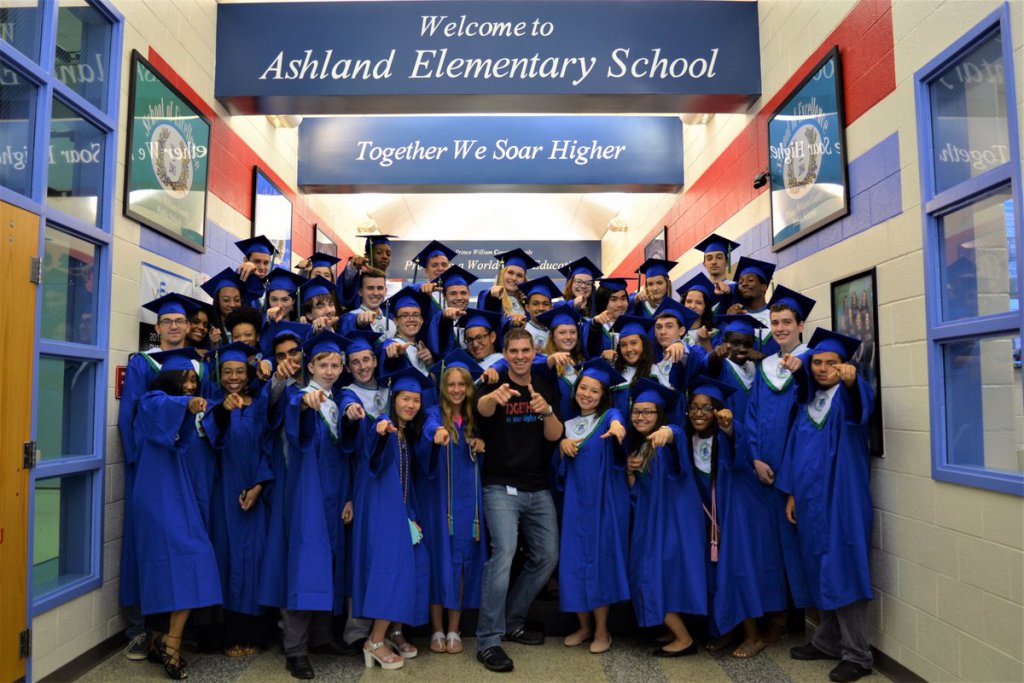 "My first group of 5th graders as a first-year principal are now graduating from high school!!! I'm so proud of them! Don't ever forget that Mr. Jacks has your back! #ashlandsoar #pwcsproud #principalsinaction #KidsDeserveIt"
We LOVE your #30SecondBookTalk videos. Why do you use video for your job?
I dove into the social media world in 2014 inspired by, now my friends, Brad Gustafson and Tony Sinanis because of how they helped me to reframe and rethink my overall communication plan with my community. I used to make fancy newsletters that had links and information, but then I found out from one of my parents on my advisory council that he never read them! So that was the last traditional newsletter I ever wrote.
Over time, I came to realize the power of connecting with people in a way that forms a positive relationship. Generally, people don't connect well via print, such as email or newsletters. With print, parents don't get to know you as a person, they just see you as a position. Video redefines how I communicate and the message that I'm sending. Parents get to know me as me and how I care about their child. It's hard to explain how I care about their child in print. But with video, you can see it in the eyes and get a glimpse into a person's heart and see how much they really care.
It's all about having your school community TRUST you as a leader and trust your decisions. If they feel they know you and trust you, they are more likely to have faith in decisions you're making for their child. Video does such a great job at that. They can hear your tone of voice and see your facial expression. These explain a lot more that print doesn't show you. Even if a situation is tough and we tend to use formal letters, I say use video even more! For example, we had a problem with a yearbook order. I sent parents a video on social media and via email. It was very to the point, "These aren't ready, and I don't want to send any home unless they are ready for everyone. I personally take responsibility for the delay. We're doing everything we can to get these to you as soon as possible." If you have to apologize, doing so through a heartfelt video goes a long way to connect with families and maintain that positive relationship and trust.
What is the impact you've seen on your school community from your videos?
We get way more views on videos and pictures than any kind of print. Our responses from parents are things like, "THIS IS WHY I ABSOLUTELY LOVE OUR SCHOOL," or my favorite, "I wish my child went to this school!" Our responses have been outstanding, especially when I'm involving kids and teachers and giving shout outs for the amazing things that they're doing.
https://www.youtube.com/watch?v=FKJZ6T5VQuI
Andy creates weekly "Friday Five" videos where he recaps all the amazing things happening at school every week.
Video is a great way to make all the amazing ideas, programs, and activities happening at school come to life. I go back to the idea that if parents and staff can explicitly say a handful of things that make their school great every week, then you're doing a good job. If they can't say exactly why they like your school or don't even know much about what's going on, you have to own that as a leader and improve your communication strategies.
Parents often tell me their preschooler asks them every day to watch one of the Mr. Jacks & the Falcon videos or another one of our fun videos. By the time they start attending our school, they know who I am and are already bought in. They look for me and know that I have their back. When parents, grandparents, and other extended family members see the videos, they say to me, "Man I've been waiting to meet you!" It creates a common bond. The principal if not anything else is the symbolic leader for the school. If they feel comfortable with what the principal is preaching, they are more likely to feel comfortable with the rest of it. It's important to show them as a leader what kind of school their children go to.
Who are you making these videos for?
I look at our school as one large school community, so when I talk about all of us, I'm talking about parents, students, teachers, all of our staff, and everyone who lives in our community. So in the videos I'm always trying to reach all of them at the same time. I don't necessarily tailor my videos only for parents, especially my Friday Five and #30SecondBookTalk which are designed to be fun and engaging for everyone.
In my monthly book talks, I read a book to every single class in the school. I use the #30SecondBookTalk videos as commercials to inspire and motivate my students to see the book I will read to them. By the time I do the read aloud, they are super excited about the book already. I've prepared my audience for a great book. The more of a routine you make in creating and scheduling the videos, the more they anticipate and look out for them.
With just about all of our videos I want show that school can be absolutely fun. Fun is part of our school's common values, and it was a value specifically chosen by students, staff and parents. So the videos have to be align with that value. They need to be fun, exciting and engaging. They need to give off positive energy which is so contagious.
https://www.youtube.com/watch?v=b0_gxLFlw6g
One of Andy's#30SecondBookTalk, "If You Want to Bring an Alligator to School, DON'T!"
How do you come up with those brilliant book talk video ideas?
Lots of ways! I like to just plan these things to play out like commercials. I watch commercials a lot. Commercials are trying to sell you something in a quick way. They spend so much money for 30 seconds, and they are going to absolutely maximize that time. There are different approaches they take to get and keep your attention as well as make sure you remember their message. The commercials might tell you a story, have a heartfelt message, or give information, but they are all somewhat brief and get right to the point of their goal.
I also go online and watch YouTubers talk about how to have better lighting and better sound. I work with my staff and we laugh all the time on what we could add to our videos. We try to go over the top with everything we do. We don't just want to talk about the book, we want a dragon or alligator trying to eat us, or where I spit out a teacher. Remember, that's the hook. That's what they'll remember. If you show them a dragon, or if you shrink yourself into a book, THAT'S what they'll go home and talk about and why they'll watch it 10 more times. So if you don't have a hook, you don't get their attention.
How has making these videos transformed you as a leader?
It's taught me a lot about what kind of leader I want to be. If you don't have anything to share, what does that say about you as a leader? If you aren't doing anything exciting, it's hard to find something to share. It's made me think, "Am I doing everything I can? Engaging every student? Going over the top?" If as principal I am not modeling and doing it, then I 'd be a hypocrite if I want the staff to do it. It starts at the very top. I practice what I preach. We have a 100% goal, we want EVERY student to LOVE coming to school.
What advice do you have for making videos?
When it comes to filming, I get lots of questions about what we use, but I've gone back to just using my phone and WeVideo. Those two things alone, have created all my Friday Five videos and almost every one of my booktalks. All it is is my phone and WeVideo! I just pump them out. It's a lot easier than you think.
I also really like the storytelling templates WeVideo made (you can get those templates here). When students think ahead of how they are going to make a video, it speeds up the video process greatly. When you plan it out, you can do in one to two takes. Be clever about the story you're trying to tell and don't be afraid to clip short segments together. A lot of the time, people do one large take and are afraid of editing. I say, lets have 50 clips if THAT's what makes it engaging. That's what movies and TV do. They edit together lots of clips, lots of angles, to keep you interested.
I've been playing around with different types of editing software for years and I have a great team around me at school, but WeVideo is the first one where there are a lot of options and tools that look high-end but are also very user-friendly for my staff and students.
Education has to be fun, exciting and motivating. That's what I keep going back to. If you can just inspire people, they'll figure out the rest themselves. If you can make videos like that, with hard-hitting inspiration, it can take you and your school a long way.
What kind of videos are your students and staff making?
Students are making things like their own book talks, famous American speeches, and history lessons using stop motion. Our student news team records and edits segments from our news show like Games with Guests.
Teachers are making videos all the time too. They record themselves and send home instructions and tutorials for students. Our kindergarten team made a Kindergarten Top 10 Readiness Tips video for families to watch after they register. It's very catchy and informative. We make parodies of songs as a whole staff. Also, every teacher uses video to introduce themselves on our webpage.
https://youtu.be/s2aT78KlX7s
There are very inexpensive ways to do it. WeVideo is not expensive, you can get inexpensive microphones, inexpensive lighting, and inexpensive ways to create a green screen.
In the video where I spit a teacher out of my mouth (see below), it's all green screen, even the hallways that look like we are just standing there. You don't need expensive equipment. Half the battle is getting in front of the camera and talking. As a leader, I've become much more comfortable with who I am. It's helped me with speaking because I'm used to seeing and hearing myself. You can't be ashamed of who you are. Be yourself. Be you.
https://www.youtube.com/watch?v=Xgb34uRKb7Y